Merry Christmas ( I Missed You So Much)
That's a Wrap on #TAYF10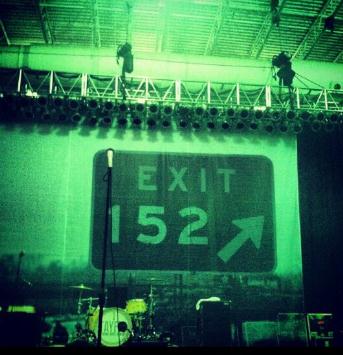 Thank you, all of you for coming out and making this one of the best tours we can remember. Thanks to all of the opening acts and the hardest working crew in show business. We're not going to change up the website just yet because we are putting together live versions of the acoustic and electric shows both in audio and video format. So stay tuned! (thanks to Kayla for the picture!)
NJ SHOW UPDATE & NYC BENEFIT SHOW
Hi guys. We want to update you on the changes for the #TAYF10 shows in the areas most affected by Hurricane Sandy. We did our best to keep the shows on schedule and also pitch in to help where we could. Here is the update from our friends at AEG:
Performances at the Starland Ballroom – originally scheduled for Nov. 16 and Nov. 25 – will combine into one "mega-show" on Sunday, Nov. 25 at Pine Belt Arena, on the campus of Toms River High School North in Toms River, NJ. Bayside, The Menzingers and Kenny Truhn will open. Tickets marked for both Starland Ballroom shows will be honored at Pine Belt Arena. This relocation means that more tickets will be available for these previously sold-out shows.
These tickets will go on sale this Monday, Nov. 12 at noon via http://www.ticketmaster.com/event/0200496A9C1537E9, phone charge at 800.745.3000 and at the Pine Belt Arena box office. Taking Back Sunday, Bayside, The Menzingers, Kenny Truhn and AEG Live will donate a portion of ticket sales to the Toms River Hurricane Sandy Relief Fund.
In addition, Taking Back Sunday has announced a NEW SHOW to take place next Friday, Nov. 16 at the Best Buy Theater in New York City. Tickets for this show will go on sale this Monday, Nov. 12 at noon EST via http://www.ticketmaster.com/event/2B004969DECE5348. Bayside and The Menzingers will open. Taking Back Sunday, Bayside, The Menzingers and AEG Live will donate 100% of net ticket proceeds to relief efforts in and around Long Beach, NY, the hometown of several Taking Back Sunday band members and family members of the other bands.
Each of these shows will feature Taking Back Sunday celebrating the 10th anniversary of its breakthrough release Tell All Your Friends by performing the album in its entirety.
Taking Back Sunday bassist Shaun Cooper said, "We're devastated to see all of the damage this natural disaster caused in our community and the communities around us, but it is always inspiring to see people come together and push forward. We're making the best of this difficult situation. Thanks to the fans for the continued support and understanding why these changes needed to take place. We would also like to thank the Starland Ballroom for helping coordinate these efforts despite being located in an affected area."
If you bought tickets for the 16th and want to go to the show in NYC instead, you must REFUND YOUR ORIGINAL TICKETS and purchase new ones for that event. If you bought tickets for either the 16th or 25th and want to go to the new show at Pine Belt Arena on the 25th your tickets will be honored. If you bought tickets and can no longer attend please read below:
For fans holding Starland tickets but unable to make the new date on November 25 at Pine Belt Arena, refunds will be accepted until 10PM on Monday, November 19th.
– If customers bought online or via phone, they may call 800.745.3000 to obtain refunds.
– If customers bought from a Ticketmaster retail outlet, they should return tickets to those locations for refunds.
– Customers who bought from the Starland Ballroom box office should stand by for information on the box office's reopening. Customers who bought from the Starland box office will not be subject to the 11/19 deadline.
Additional information on these performances can be found at www.takingbacksunday.com, www.starlandballroom.com and www.bestbuytheater.com.
Thank you for everything. Hurricanes suck.
Help East Coast Musicians affected by Hurricane Sandy
Sweet Relief Musicians Fund helped us put together a quick auction for tix, beat the line, a signed guitar and signed set list for one of the upcoming east coast #TAYF10 shows… If you are looking for tickets to one of these sold out shows, this is a great way to help out the East Coast musicians who are affected by hurricane sandy. Thanks in advance, all of the info is available HERE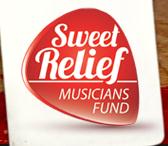 SF Weekly Goes To Soundcheck
SF Weekly came out to hang backstage and take some photos of soundcheck and the show Sunday night at the Regency Ballroom. You can check them out HERE and HERE.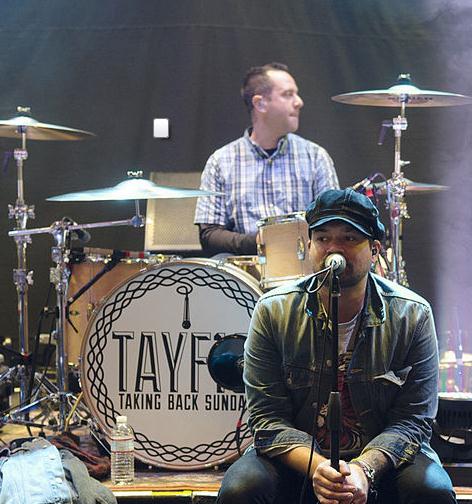 NYLON #TAYF10 Interview and Performance
Thanks to Nylon Magazine for having us in to chat about #TAYF10 and perform a few acoustic songs. It's a celebration!
CHECK IT OUT HERE: NYLON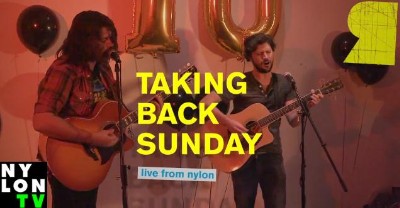 LI Cares Food Drive Nov 21 at The Paramount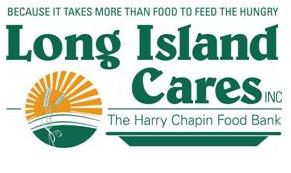 Once again, along with the Paramount we are teaming up to support Long Island Cares, Inc.-The Harry Chapin Food Bank by hosting a food drive and asking everyone coming to the show on 11/21 to bring a donation of a non-perishable food item to help feed the hungry on Long Island.
Long Island Cares will also be hosting a special raffle to win a custom-framed drum head signed by each of the members of Taking Back Sunday as part of their "Beat An End to Hunger" campaign. Stop by their information table in the lobby on the night of the show for more information on purchasing raffle tickets.
Get more information on Long Island Cares HERE.
#TAYF10 Playist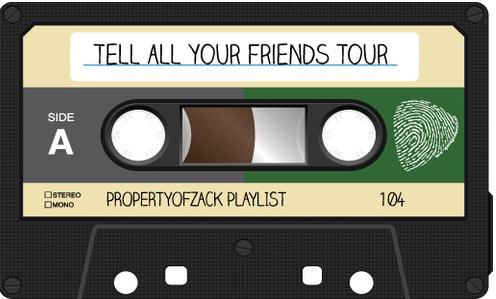 Thanks to Property of Zack for putting together a tour playlist for the #TAYF10 tour and also asking some of the other bands on the tour what they are currently listening to. You can check it all out HERE.