New Album HAPPINESS IS Available March 18
TAYF10: DOUBLE DVD and ACOUSTIC VINYL
We are excited to announce the Sorry Records release of
TAYF10: ACOUSTIC / TAYF10: LIVE FROM STARLAND BALLROOM
Both available for the first time on DVD! We've made a two-disc digipak with dual covers and you can pre-order today! Pre-orders for the Double DVD and Limited Edition Pack both come with a chance to win extra goodies so make sure you click on the item to see what is offered! Items will ship week of December 10! You can also purchase the vinyl version of TAYF10: ACOUSTIC through the same link.
CLICK HERE TO ORDER THE DOUBLE DVD AND VINYL NOW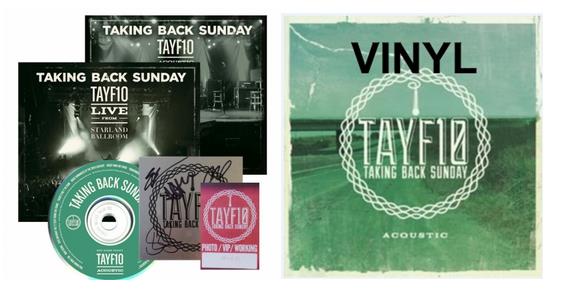 If you have already purchased TAYF10: ACOUSTIC and would like to purchase TAYF10: LIVE AT STARLAND BALLROOM you can order that digitally. This is available now!
CLICK HERE TO ORDER THE DIGITAL FILM NOW
Watch There's No 'I' In Team from the film now:

Auction for Aid in the Phillipines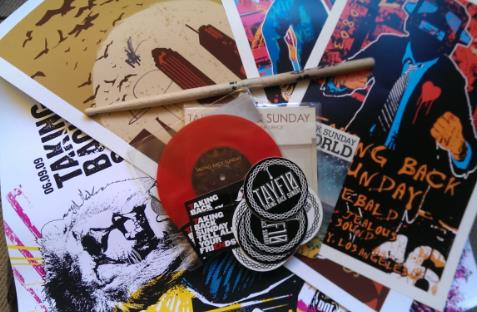 Our friends at Hopeless records have put together an auction to help out in the Phillipines. All proceeds from this auction will be donated to World Vision to help those affected by Typhoon Haiyan.
Find out more about this auction and bid on the package of rare posters and vinyl here:
http://www.ebay.com/itm/281207249920?ssPageName=STRK:MESELX:IT&_trksid=p3984.m1555.l2649
TAKING BACK SUNDAY TO RESUME FALL TOUR WITH HELP OF FORMER UNDEROATH FRONTMAN, SPENCER CHAMBERLAIN
UPDATE:Tuesday, October 29— Spencer will be continuing on with us through Saturday, November 2. So get your Halloween costumes ready and come sing along! The Lazzara family is doing well and thanks you for the support.
October 24, 2013 — Taking Back Sunday announced today that they will resume their fall tour with the help of former Underoath frontman, Spencer Chamberlain. Spencer will fill in for lead singer Adam Lazzara on an indefinite amount of upcoming tour dates starting with the Melbourne, FL show this Friday, October 25th.
This comes after Adam Lazzara had to leave the tour on Sunday when his wife unexpectedly had an early delivery of their second son. After cancelling a few tour dates, the band has decided to continue the tour with Spencer Chamberlain until Adam can rejoin.
Spencer Chamberlain, a long-time friend of Adam, has willingly stepped up to fill in and give the new father more time to stay in the hospital with his family. Spencer was the frontman of Underoath for 10 years and is currently working on a new project called Sleepwave. The band is excited to have him and look forward to Spencer and John trading lead and backing vocals at the upcoming shows. First up will be the Free FIT Homecoming show this Friday in Spencer's home state of Florida. You can find more information on Sleepwave at http://www.sleepwavemusic.com.
It is unknown when Adam will return to the tour, but he is so thankful to Spencer and whole-heartedly thanks everyone for all of the support and kind words the family has received.
You can view the remaining tour dates here: http://www.takingbacksunday.com/tour/
New Song: Flicker Fade Live From Starland Ballroom
Excited to kick off our fall tour this week. You can see all of the dates on the tour page. Here is a live version of our new song FLICKER FADE which will be on the new album due out in Spring on Hopeless Records. See now you don't have to worry about filming it at the shows, just sit back and enjoy! See you out there!
FALL TOUR ANNOUNCED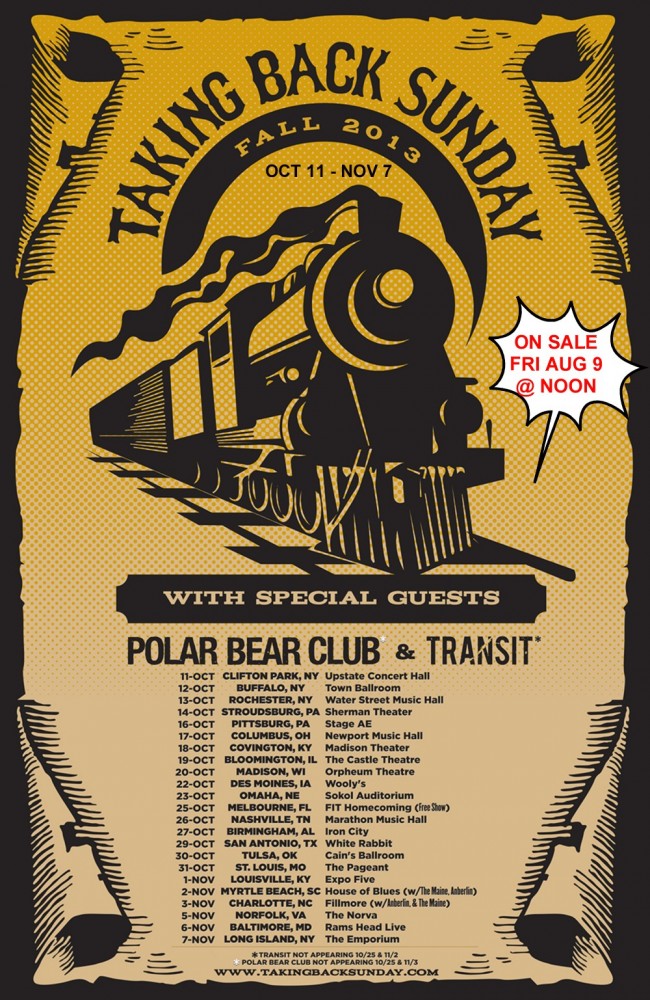 Fall Tour Oct 11 – Nov 7! We haven't beent to some of these places in a while so while we are prepping our new album for next year we thought we would come visit and play some new songs along with some old favorites. Excited to be bringing Polar Bear Club and Transit along for most of the dates! If you are in SC or NC we are coming through with our good friends Anberlin and The Maine! See you soon!
TAYF10 ACOUSTIC – AVAILABLE NOW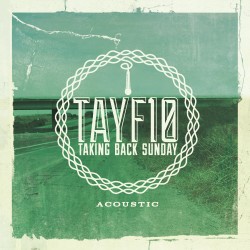 We are very excited to announce the digital release of TAYF10 ACOUSTIC – available now through the links below and most online retailers!
CLICK HERE to watch the trailer and to order the digital HD Film, Digital Album or get a special price for both: http://tayf10.takingbacksunday.com/
CLICK HERE to order limited edition TAYF10 Merchandise, TAYF10 Acoustic Digital Album or special bundles for both: http://modlife.com/shoptayf10/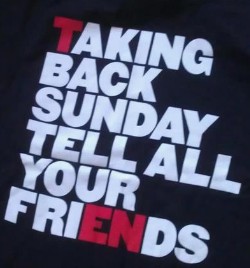 CLICK HERE to watch "BIKE SCENE" from the film, featuring Michelle DaRosa.
The TAYF10 ACOUSTIC digital album is also be available through regular digital retailers-
CLICK HERE for iTunes
CLICK HERE for Amazon
We are also thrilled to announce that we will be part of the re-opening of Starland Ballroom! The impact of hurricane Sandy can't keep them down. We will be back to play TAYF10 Electric the way it was meant to happen with two shows this
September 11 – with Get Involved!
September 12 – with Bad Rabbits.
On Sale Now!
Taking Back Sunday 9/11 – http://www.axs.com/events/242335/taking-back-sunday-tickets
Taking Back Sunday 9/12 – http://www.axs.com/events/242336/taking-back-sunday-tickets
or 888-9-AXS-TIX
We always try and answer questions on twitter – make sure you tag @tbsofficial
RIOT FEST 2013

Join us in Chicago this fall for Riot Fest. Dates are Sept 13-15 and it's selling out fast!
Record Store Day 2013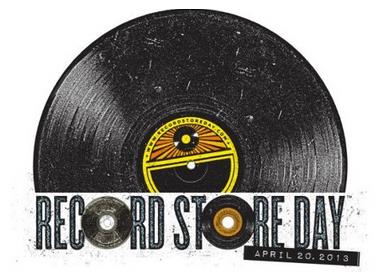 Don't forget to get out and support your local retailers and artists tomorrow! Get a list of special titles being released on the Record Store Day site. Happy Hunting!
Puppies!
Our friends at Baja Animal Sanctuary who operate a rescue in Mexico and hold adoptions in the San Diego area named this cute litter of puppies after us. Check out their FB Page at www.facebook.com/bajaanimalsanctuary for more info