Fourth Annual Holiday Spectacular
Taking Back Sunday Authentics
Hello! Excited to formally introduce our new Authentics line. We developed our own label and thought it could represent some merch items that were higher end materials and/or more personalized items to the band. We have a few items out on the current tour so look for the label. One great example is a new 3/4 sleeve jersey with a design that Mark had his tattoo artist Tommy Helm create for us. We're excited to launch some of the items online today with a slub-cotton logo shirt, label embroidered hat and another very special item – our upcycled backdrop tote bags. These are made from the backdrop we used on the tour launching the Self-Titled album so it's fitting to release it with our exclusive green variant of that album and our limited gold variant of Louder Now. Both albums and the merch are also available on our current summer tour while supplies last, but the bags are very limited and will only be for sale through our US Online store. We'll see if you guys like them and them perhaps do another round, we have plenty of backdrops!
CLICK HERE to check out the new items and don't forget to visit our merch booth on tour for a lot more new designs!


VIP Clarification
Hello and thank you for a great first week of tour! We've been informed there is some confusion on the VIP Packages so we wanted to clear it up. Here is the link to purchase VIP from us: http://ticketspin.com/tbs-2017
This is the listing in the two places before you purchase the VIP tickets explaining what the items are that come with it: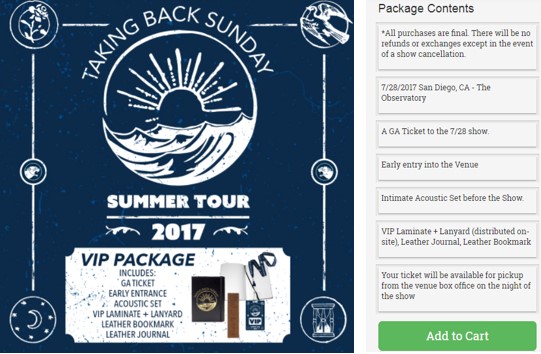 After the purchase, Ticketspin accidentally sent out a confirmation email referencing a meet and greet to a small number of people. This was never part of the package, it was never listed anywhere prior to purchase. They apologized for doing this and said they informed the purchasers who got that email of the error. If you still have an issue you want to speak to Ticketspin about please reach out via: help@ticketspin.com
Again sorry for the confusion! We were very happy with what we put together (Adam definitely stole about 15 of those bookmarks!) and really enjoy the intimate sets so we hope you are enjoying it as well!
NEW VINYL + BACKDROP BAGS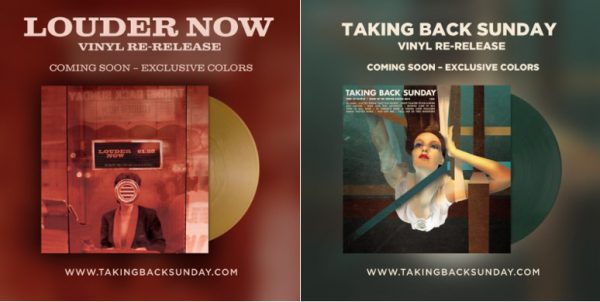 Happy Birthday to our Self-Titled album out on this day in 2011. Looking forward to having exclusive colors of both this and Louder Now up in the US store by mid-July and on tour with us this Summer! As a special treat we've made a very limited run of tote bags from the backdrop we had out with us back on that album launch tour that will also go up in the US store. Own a piece of Taking Back Sunday history. Each bag is unique and will have a new Taking Back Sunday Authentics label on it. Stay tuned!
Sound on Sound Fest – Sherwood Forest, TX
Excited to add Sound On Sound Fest to our fall tour itinerary. The festival is November 10-12 in Sherwood Forest – just outside of Austin, TX. The line-up is above, so honored to be part of this list.
Passes are available now: CLICK HERE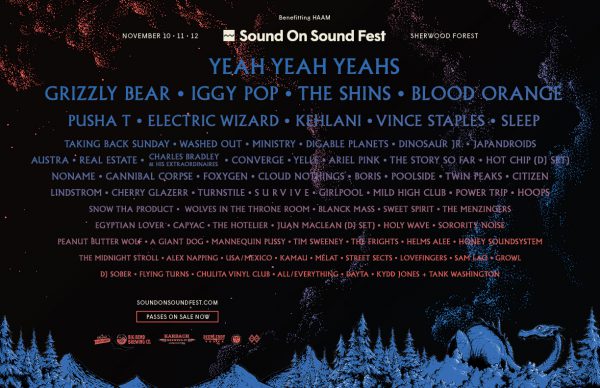 John Nolan DJ Sets
Excited to announce that John is going to keep the party going for the Summer Tour and will be popping up to guest DJ in a few spots along the way. Check the tour page for details and ticket links if they are available in advance. Some events are 21+ and some may have a small $5-$10 cover fee.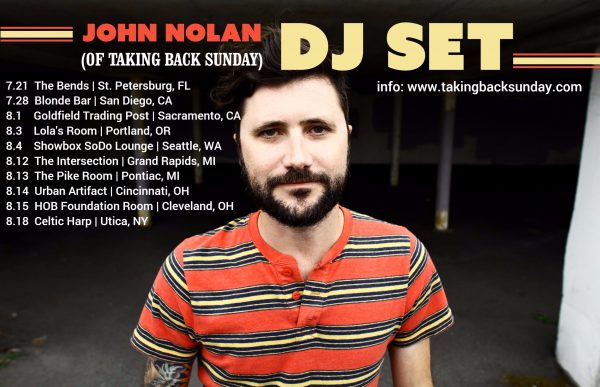 Spotify Summer Tour Playlist
We are very excited about who we are bringing out on this 2017 Summer Tour so we asked the two openers, Modern Chemistry and All Get Out if they would help put together a playlist with their favorite songs from the other three bands on the tour and tell us why they picked those songs. Here you go: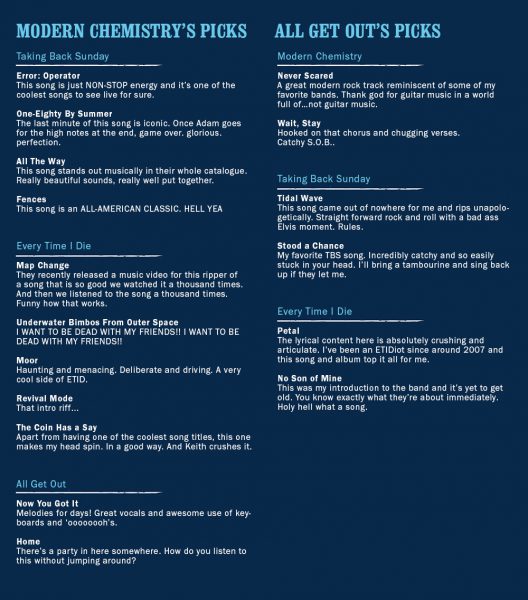 RIOT FEST 2017 IS COMING- More Bands Added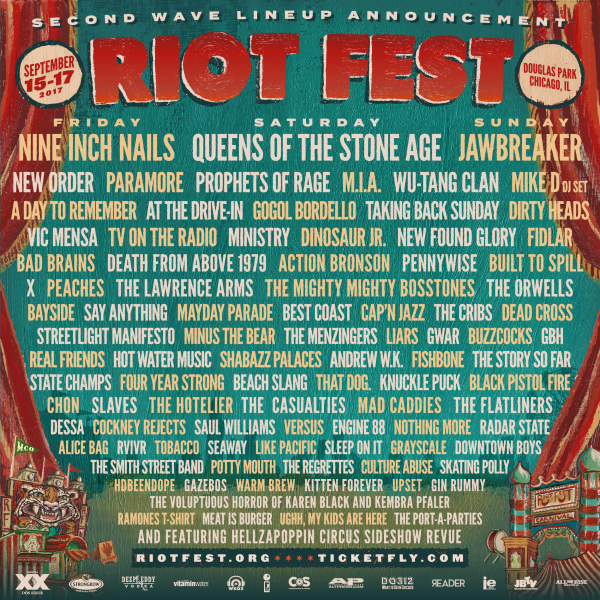 The Second Wave of Riot Fest bands were announced today.
Get TIX and INFO at www.riotfest.org
Jamboree Postponed
UPDATE MAY 30: Unfortunately we are going to have to postpone the Fun-Time Jamboree. We are truly sorry, we were very excited for it, but there may be something even better in the works so stay tuned! Island Gigs will be issuing you a full refund that should be processed in the next 48 hours. This will happen automatically, you won't have to do anything. If you have any questions for them regarding the refunds, please email info@islandgigs.com. We really appreciate you and we never like to cancel engagements so thank you for understanding.
RIOT FEST 2017
Stacked.
TIX AND INFO
#riotfest2017